Australia
Hundreds of Biloela Tamil family supporters brave rain to hold candlelight vigil outside Perth hospital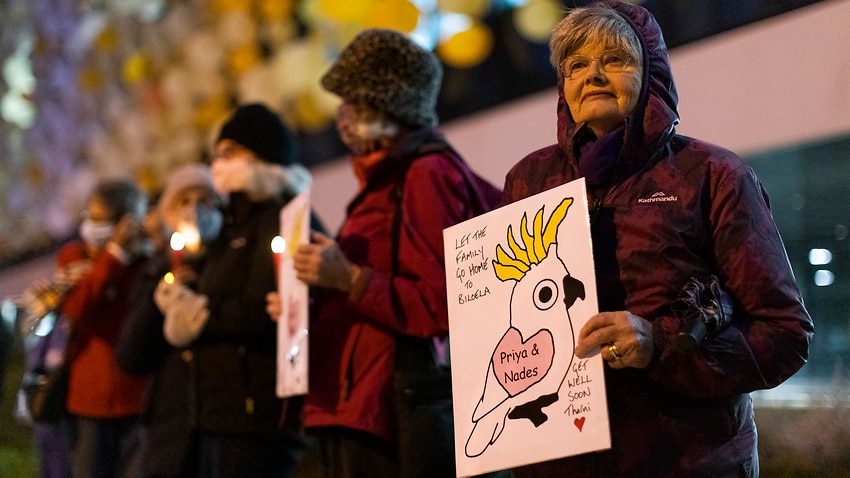 Hundreds of supporters from a Tamil asylum-seeker family from the small town of Biloela, Queensland, gather outside Perth Children's Hospital, where the youngest daughter of the family is being treated for a blood infection.
A group with battery-powered candles and a cardboard sign calling for the liberation of the family sang "Twinkle Twinkle Little Star" on Thursday night, despite the wind and rain.
3 year old Tarnica Medical evacuation from immigration detention center on Christmas Island After more than 10 days of high fever, vomiting and diarrhea, he was admitted to Perth Children's Hospital on Monday.
She was subsequently diagnosed with a blood infection due to untreated pneumonia, supporters said.
One of the Tamils ​​who participated in the expulsion carried a sign saying, "Don't move Tarnica to a dangerous place."
Family friend Angela Fredericks previously told SBS News that she wanted Tarnica to be able to "see the sparkling light and know she wasn't alone."
Tarnica has been detained on Christmas Island with her sister Kopika (5 years old) and her parents Priya and Nades Murgapan after an urgent court order prevented her from being deported to Sri Lanka in August 2019.
Her mother was allowed to travel to Perth, but her father and sister remain on Christmas Island.
The Home to Bilo campaign, a group of friends and supporters advocating for the family, said Tarnica's condition improved on Thursday and felt "better and brighter."
But she said she hadn't eaten yet.
"Doctors are waiting for the results of the blood drawn yesterday for testing. It will take two days for the results to come out," the group said in a statement.
Her medical evacuation has created new demands for families to be allowed to live in the community while waiting for the outcome of legal action.
Priya was reportedly worried to the group that she and Tanika would be repatriated to a remote island by the weekend. "There was no sign from the Australian Border Forces whether this was the case. I did, "they said.
Hopes that the family would soon be released into mainland community detention were shattered after Foreign Minister Marie's Payne warned Wednesday. The government was considering resettlement options in New Zealand and the United States..
But family lawyer Carina Ford told SBS News that she had received it. There is no government contact regarding possible resettlement options.
"It's hard to tell if something else was a disposable border being discussed, or if there's something more specific," she said.
SBS News approached Andrews' office on Wednesday and asked for her comments to be clarified, but she was told there was nothing more to add to the issue.
Proponents claim that Tarnica was denied proper treatment after she became ill. Mr. Priya repeatedly tried to warn her about the seriousness of her daughter's condition before she evacuated, but it was suggested. He said that only Panador and Nurofen were the only ones.
The International Health Services (IHMS), which has a contract with the government to provide medical care to detainees on the island, said in a statement Wednesday that Tarnica was "provided appropriate and timely medical care."
It followed a similar statement by the Home Office, which violently denied allegations of omission and abuse against those caring for it.
A spokeswoman for the Ministry of Health said Tarnica was treated "in line with doctor's advice" on the island and monitored daily through both general practitioners and Christmas Island Hospital.
She was first hospitalized on Sunday morning on Christmas Island.
With Aaron Fernandez
Place of originHundreds of Biloela Tamil family supporters brave rain to hold candlelight vigil outside Perth hospital